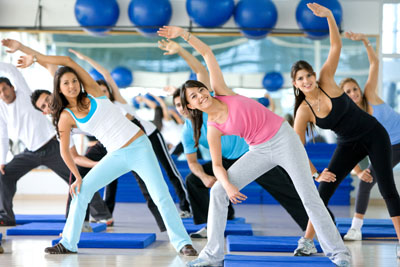 Schedule of Fitness Classes
Front Desk (904) 829-8584
Description of the classes listed below the fitness schedule. The schedule may be subject to change.
Classes are 50 minutes unless specified otherwise and are designed to accommodate all levels. Please allow yourself a full hour. Equipment and supplies are available. We respectfully request that you clean your equipment after use.
| | | |
| --- | --- | --- |
| Monday | 5:30AM | High Intensity Interval Training |
| | 6:45AM | Spin Class |
| | 9:15AM | Pilates |
| | 10:30AM | Senior Stretch |
| | 5:30PM | Pilates Barre |
| | 6:30PM | Beginner's Yoga |
| Tuesday | 8:00AM | Tone & Stetch |
| | 9:15AM | Yoga |
| | 10:15AM | Senior Yoga at the Amenity Center |
| | 10:30AM | Warrior Sculpt |
| | 5:30PM | Spin Class |
| | 6:45PM | Zumba |
| Wednesday | 5:30AM | High Intensity Interval Training |
| | 8:15AM | Extreme Burn - 80 min. |
| | 10:00AM | Fitness Pilates |
| | 11:15AM | Senior Stretch |
| | 5:00PM | Senior Mat Pilates |
| Thursday | 8:00AM | Tone & Stretch |
| | 9:30AM | Core & More |
| | 10:45AM | Tai Chi |
| | 5:15PM | Spin Class |
| | 6:30PM | Zumba |
| Friday | 8:15AM | Extreme Burn - 80 min. |
| | 10:15AM | Pilates |
| | 10:15AM | Senior Yoga at the Amenity Center |
| Saturday | 9:30AM | Zumba |
| | 11:00AM | Kid's Fitness Class |
| Sunday | 4:00PM | Yoga |
Class Descriptions
Aqua Aerobics - Stay cool in the pool with this full body non-impact aerobic workout. This class is available during the Spring - Fall months. Aqua Aerobics is gentle cardio and strength training set to music in the water. All ages are welcome. This is a free hour long class that is held in the adult lap swim pool.

Body Max - The Body Max workout challenges all major muscle groups. It includes squats, presses, curls and lifts. This is an ultimate full body workout.

Circuit Class - This one hour interval training class will work the entire body. Alternating strength or a combination of strength and cardio stations to burn fat and increase your level of fitness. Using body weight and a variety of equipment, this class is fast paced and high energy!

Core & More - Core and More is designed to develop lean muscle while improving balance and increasing flexibility and range of motion. This class combines body weight exercises and hand held weights to tone and strengthen the entire body. It is a fun and challenging class that begins with a thorough warm up and finishes with a relaxing stretch. This is a free class suitable for all ages.
Extreme Burn - (80 min) High Intensity interval training. Full body sculpting with weights. Low to high impact. Great for both men and women. Cardio, Strength, and Endurance. (High impact)

Fitness Pilates - This class was designed to use the precise movements of both traditional and post traditional Pilates exercises to develop a strong, healthy core. The focus is on core strength and stability. Equipment is used, all levels are welcome.

High Intensity Interval Training (HIIT) - Participants are asked to arrive on time for station set-up. HIIT is design to kick up your cardio level. You will need to push yourself through every set. It's working harder using higher oxygen intake, burning more calories before and after workout.

Kid's Fitness Class -This will be a class for kids ages 7-14 that will increase strength, flexibility, and mobility with the use of body-weight and other forms of resistance. Kids will learn proper techniques and forms of many exercises that they can utilize on their own. The class is free of charge. Children should wear exercise appropriate clothing and shoes.

Pilates - Overall strengthening, toning, and stretching engaging the body's core. (Low impact)

Pilates Barre - A blend of Pilates, Yoga, Ballet Strength with a strong focus on core development.

Senior Mat Pilates - Senior Mat Pilates is a class designed to enhance the quality of movement by improving core strength, mobility, posture, and dynamic balance in a safe environment. Together we will strengthen our core, align our body and increase our spine flexibility. Remember we are as young as our spine is flexible.
Senior Yoga -

Senior Stretch - A class for everyone. This class will focus on balance, posture, light weight work, low impact aerobics and stretches. The goal of this class is to rehab you before you need it.

Spin Class - An instructor guides you through the workout phases. The workout will be set to motivating music and will be a combination of warm-up, steady up tempo, that runs thru, Sprints, climbs and, cool downs, Etc... You have control over the intensity of your own bike throughout.

TABATA - Tabata is a type of high intensity interval training that follows a specific format: 20 seconds of a very high intensity exercise or a targeted strength exercise followed by 10 seconds of rest. This will be an hour class that is designed to get your heart going. You will be working both cardio and strength. You will need to bring your own mat.
Tai Chi - The classes this season will be on Yang 24, the most popular form in the world today. We will also review the basics of tai chi and practice qi gong exercises in every class meeting. I hope also to introduce some practice in meditation. The goal for you in this class should be to learn Yang 24 -- all 24 movements -- so that you can perform it on your own without following a leader.
Tone & Stretch - Light weights combined with gentle stretching to tone the body. (Low Impact)
Warrior Sculpt - Warrior Sculpt is a class that bridges the gap between group fitness and yoga by combining the best of yoga, strength and cardio training. Flowing sequences of movement in a warm room will be sure to help de-stress your body, mind and soul. You can expect to improve your balance, coordination, joint stability, muscular and cardiovascular endurance in this one hour class.

Yoga - Designed by your instructor to relax, tone, and strengthen. (Low Impact)
Zumba - (1 hour) is an infectious combination, using interval training for an effective aerobic workout while targeting the abs, legs, glutes, and arms. The first 60 minutes is a calorie burning, dance fitness party followed by 30 minutes of toning with light weights. It is a "watch and follow" workout with movements repeated so that it is easy to catch on and routines are repeated each week for maximum benefits. Zumba is based on Latin, international and popular music and dance moves but you don't have to be a dancer! Whether you want to lose weight, get in shape, or just be a healthier you, Zumba is the class for you! Come join the party!


* All classes are free of charge and we encourage everyone to come participate.
* With the exception of Spin Class, which is $7 per class.